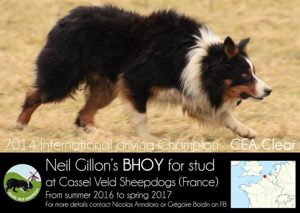 Bhoy est né en Ecosse et est issu des meilleures lignées locales. C'est un des deux chiens de Neil, le second est Sweep, un fils de Bhoy. Bhoy a été l 'international driving champion en 2011 et a souvent représenté l'equipe d'ecosse en single a l'international. C'est un excellent chien de concours qui est placé a plus de 80 % du temps mais ce n'est pas seulement un chien de concours remarquable. Bhoy est aussi un excellent chien de ferme qui a une endurance impressionnante et une puissance remarquable pour déplacer tout type d'animaux. C'est un chien qui a eu de grosses journées de travail dans sa vie et qui veut aider tant qu'il peut. Il est courageux, puissant et 300% honnête. C'est le genre de chien que l'on est content d'avoir dans les situations difficiles. Il a travaillé par des températures extrêmes pendant des heures dans des conditions extrêmement difficiles et a TOUJOURS donné tout ce qu'il avait. Pour résumer : Bhoy est le type de chien a qui on peut demander la lune.
Bhoy est le père de Shweep, champion d'écosse 2016.
2014 : 5ème au national Ecossais National
champion de drive (Son fils Shweep aussi qualifié dans l'équipe écossaise)
2013 : 8ème au national Ecossais, Manque la qualification pour le suprême d'un point
2011 : 7ème au national Ecossais National
champion de drive 3ème a égalité à la qualification du suprême, 10ème au Supreme
Champion international de Drive
Bhoy was bred in Scotland out of the best local lines. He is one of the two open dogs of Neil, the second one is Sweep, a son of Bhoy. Bhoy has been the international driving champion 2011 and have often represent scotland at the international. He is a very good trial dog placed at 80+% of trials he competes but he is not only a remarcable trial dog. Bhoy is also an outstanding working dog showing tremendous stamina and power on his flock. He has had many long hard working days in his life , he is a dog that wants to help you and any mistakes made by him are for the right reasons and never because he doesn't want to do something, He is brave, powerful and 300% honest, the kind of dog you are please to have in the difficult situations. He has in the past worked in high temperatures and very difficult situations and ALWAYS gives his all. To resume : Bhoy is the kind of dog to who you ask for the moon.
Bhoy is the father of sheep, who won the scottish national 2016.
Bhoy's achievements
2014 : 5th Scottish national
Scottish driving champion (His son Shweep also qualified for Scottish team)
2013 : 8th Scottish national missed supreme by one point
2011 7th Scottish national Scottish driving champion
2011 international 3 equal qualifying for supreme and 10 in the supreme also international driving champion
Shweep, son of Bhoy, won the scottish national 2016 / Shweep, fils de Bhoy champion d'écosse 2016.